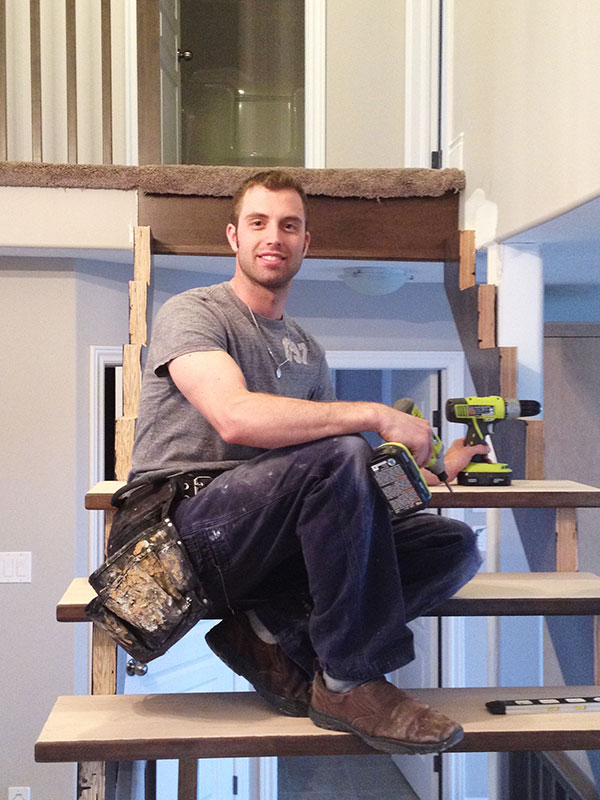 This is My Story
After receiving my diploma in civil engineering I started working for a small stair and railing business in Ottawa, Heart Of Your Home Stairs And Railings. This small business of 4 people, taught me the importance of excellent customer service and quality workmanship. Always looking for a challenge, I decided it was time to expand my horizons and apply to a larger stair/railing company, Stairworld. This is where my knowledge and skill grew quickly. A company of over 80 employees strictly building and installing custom stairs and railings. I had the chance to work on projects of a massive scale, both commercial and residential and learned how to customize on site, work under pressure and become an exceptional problem solver.
It has always been a dream of mine to own and operate my own business. I thought my hometown of Sudbury would be a great place to start. As the sole operator/owner of KP Carpentry Stairs and Railings, I deal with you, the customer from start to finish to ensure all your expectations are met.
When you call KP Carpentry Stairs and Railings, you are calling a specialist who is educated, experienced and takes pride in his work.
I thank you for taking a moment to read up on me and my history and I look forward to meeting you and making all of your stair dreams come true!
sincerely,
Kris Perretta